Slips, Trips, Falls: Ways to Avoid
December 27, 2022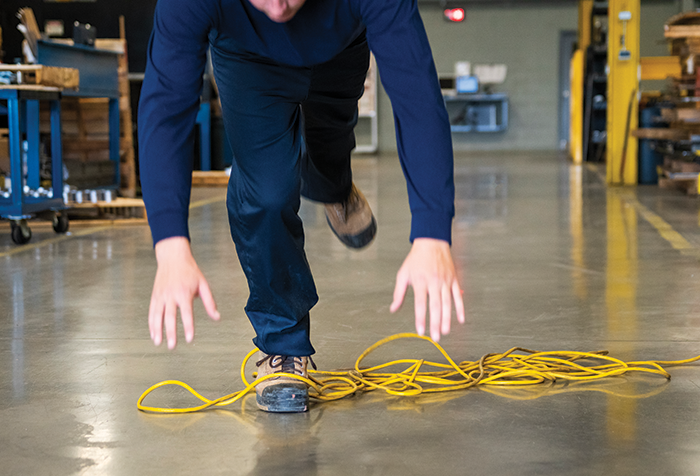 The Bad News
Slips, trips, and falls are among the top causes of workplace injury, sometimes even resulting in death. They are also among the leading motives for liability claims against businesses and home owners.
The Good News
Slips, trips, and falls can be easily prevented by following a few, common-sense measures. Hazard awareness, good housekeeping, proper training for employees, etc., can go a long way toward eliminating incidents or minimizing the injuries that do occur.
Safety Measures
Keep walking areas clean and free of clutter, debris, and weather-related hazards like snow and ice
Make sure stairways are clear, well lit, and free from unsecured objects; install handrails and remove any unsecured rugs or carpets
Run cables and cords behind walls; only use cover protectors when cables/cords cross walkways; never place cables or cords on or across stairs
Add non-skid throw rugs (and non-skid padding) to areas with slippery surfaces; beveled edges are recommended
Wear non-slip shoes with proper traction appropriate for specific work conditions
Illuminate areas that are common places for trips and falls —inside and out— with proper lighting
Clean spills or report them immediately; place wet floor signs near unsafe areas until cleared
Install well-placed signage to help call attention to potential problem areas (wet floors, uneven ground)
Fix unstable surfaces and damaged flooring, including loose or rippled carpeting
Provide ladders and accessible step stools to help reach heights; always follow proper ladder safety protocols
Conduct and document regular property inspections; restrict hazardous areas until corrections are made
Investigate and analyze incidents; take corrective action
Helpful Resources
AMERICAN LADDER INSTITUTE
https://www.americanladderinstitute.org/page/BasicLadderSafety
NATIONAL SAFETY COUNCIL
https://www.nsc.org/workplace/safety-topics/slips-trips-and-falls/slips-trips-and-falls-home
OSHA
https://osha-safety-training.net/osha-slips-trips-falls-protect-employees/
Disclaimer: The GUARD Wire is designed to provide general information about various topics of interest and should NOT replace the guidance, advice, or recommendations from licensed insurance or legal professionals, other industry experts, or state and federal authorities.