Fire Sprinkler Systems: Maintenance Matters
March 29, 2022
Fire sprinkler systems can be an excellent investment for a business but they do require regular inspections and maintenance. After all, the worst time to discover that your system isn't working properly is during an actual fire.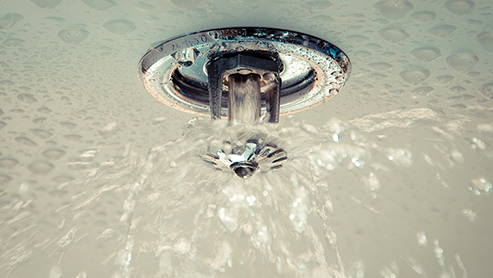 That's why we recommend following the National Fire Protection Association's standard, NFPA 25, which is considered the baseline for inspection, testing, and maintenance of water-based fire protective systems. While frequency varies depending upon the type of system installed, the timeline provided here can be used as a general guide.
For more details, we encourage our policyholders to visit nfpa.org or contact a licensed fire protection company for help.
Weekly
Check the gauges on dry, preaction, and deluge systems. Look for a normal read on air and water pressure.
Check control valves for leaks and make sure they are locked, properly sealed, and in the open position. Add proper signage to identify what part of the sprinkler system they control.
Monthly
Check the gauges on wet-pipe systems; ensure that water pressure is maintained and check for physical damage.
Perform an external inspection of alarm valves.
Quarterly
Ensure that alarm devices are not damaged.
Make sure the hydraulic nameplate is secured to the sprinkler riser and is legible.
Annually
Have a licensed technician inspect and test your fire sprinkler system components annually, including:
Gauges & Control Valves
Alarm Devices
Hangers/Bracing
Pipes and Fittings
Sprinkler Heads
Anti-freeze Solution
Backflow Prevention Components
Main Drain & Inspector Flow Tests
Water Flow Alarm
Other Resources
NATIONAL FIRE SPRINKLER ASSOCIATION
https://nfsa.org/itm/
NFPA 13 VS. NFPA 13R
https://nfsa.org/2020/11/17/nfpa-13-vs-nfpa-13r-in-podium-and-mixed-use-construction/
FIRE SAFETY
https://www.osha.gov/fire-safety/standards
Disclaimer: The GUARD Wire is designed to provide general information about various topics of interest and should NOT replace the guidance, advice, or recommendations from licensed insurance or legal professionals, other industry experts, or state and federal authorities.