Residential Grill Use
Published on August 1, 2019
Last modified on September 14, 2020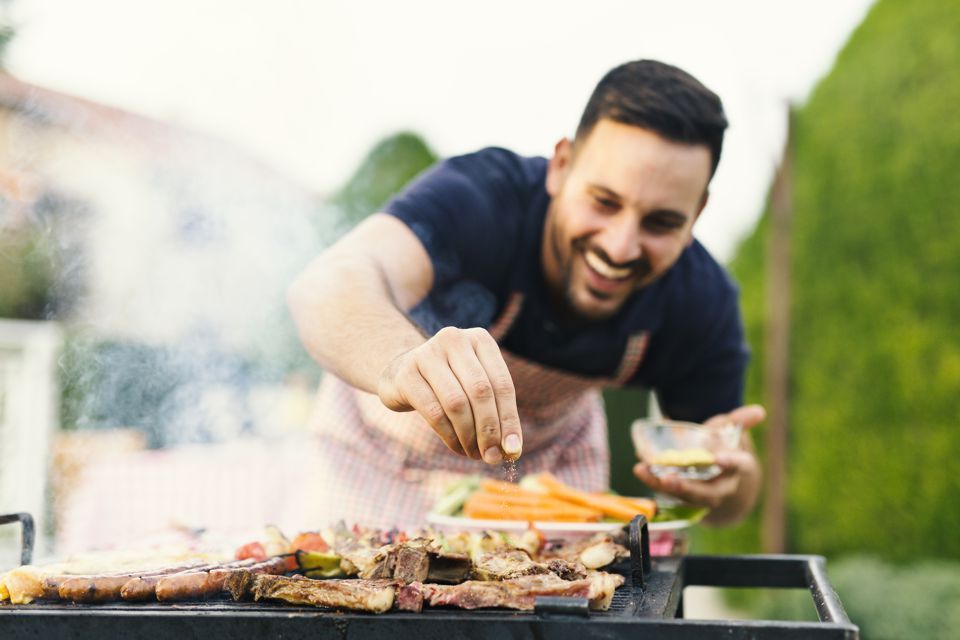 If you plan on using a residential grill this summer, ensuring the safety of you and your family is critical. Barbeques are a common outdoor activity that allow friends and families to connect with each other. While the spirit of these events uplift many, it is known that accidents related to outdoor grills increase during these hot months. The National Fire Protection Association (NFPA) reports that "peak months for grilling fires are July, followed by June, May, and August."1
Although there are a variety of grills that can cause potential fires, owners are able to follow recommended safety precautions to avoid danger. In 2019, the NFPA reported that "10,200 home fires are started by grills each year, on average."2 While some residential grill fires are due to infrequent mechanical errors, avoiding danger around the BBQ can be easy if you stay proactive.
Keeping your family and friends safe from grill fires requires a grill owner to stay cautious and attentive. Five common causes for a BBQ fire include:
Failing to clean the grill. If the grill does not receive the proper care from its owner, it can be more susceptible to hazards.
Issues regarding the location of the grill. The NFPA requires that a ten feet distance be kept between the grill and any structure.3
Mechanical errors. Owners must regularly attend to the grill and check to ensure there are no visible signs of a mechanical error or other potential hazard.
Leaving the grill unattended. Until the equipment has been turned off completely, an owner must be present to monitor the grill at all times. Additionally, keep the grill attended for 15 minutes after it is turned off or no longer in use. Some fires have occurred when grills re-ignited or were tipped over while unattended shortly after use.
A leak or break in a gas line: A situation like this could cause a devastating accident for an unaware grill owner and their family.
It is critical that grill owners take the appropriate safety precautions to prevent a grill fire. Although many try their best to avoid BBQ fires, the U.S. Fire Administration estimates "about 5,700 grill fires take place on residential property every year."4 (Grilling Safety and Insurance).
Due to how some grill fires are errors that are often unavoidable, it is important to protect yourself with an appropriate insurance policy. Berkshire Hathaway GUARD Insurance is committed to providing the highest quality of care to their clients.
Disclaimer: The GUARD Wire is designed to provide general information about various topics of interest and should NOT replace the guidance, advice, or recommendations from licensed insurance or legal professionals, other industry experts, or state and federal authorities.
1NFPA Offers Tips for Safe Grilling This Memorial Day and Beyond, as May and Summer Months Represent Peak Time of Year for Outdoor Grilling Fires. May 13, 2019. https://www.nfpa.org/News-and-Research/Publications-and-media/Press-Room/News-releases/2019/NFPA-offers-tips-for-safe-grilling-this-Memorial-Day-and-beyond.
2HPBA's "State of the Barbecue Industry" consumer survey. NFPA's 2019 "Research Fact Sheet".
3United States, Congress, "NFPA 1®, Fire Code, 2012 Edition." NFPA 1®, Fire Code, 2012 Edition, NFPA STANDARDS DEVELOPMENT SITE. www.nfpa.org/Assets/files/AboutTheCodes/1/1_A2014_FCC-AAA_SDReport_Part1.pdf.
4Grilling Safety and Insurance. Insurance Information Institute, www.iii.org/article/grilling-safety-and-insurance.