Safe Grilling: Being Careful at Cookouts
Published on August 1, 2019
Last modified on May 27, 2022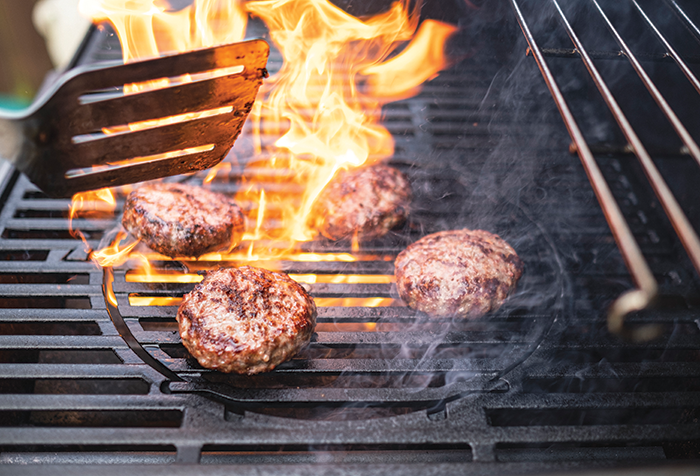 Summer is the peak season for grilling outdoors, so it stands to reason that associated injuries and property damage are reportedly highest during this time. While human safety is of utmost concern, open flames combined with gas or propane can also end up being a dangerous combination for property and structures, including traditional homes, hotels/motels, apartment buildings, and condos.
Property protection begins with a basic understanding of the risks involved with outdoor cooking equipment. As such, building owners/property managers should be sure to provide related safety rules to tenants and visitors. Measures to control the exposure are the next step and can go a long way to controlling negative outcomes.
Use the grill ONLY outdoors.
Propane, gas, charcoal grills, and smokers are all designed to be used outdoors. Make sure there is optimal ventilation surrounding equipment, no overhanging combustible materials, and grills and smokers are on a flat, level surface.
Keep grill/smokers at a distance.
Keep grills/smokers at least 10 feet away from any structures, including garages and sheds. Prohibit the use of grills on decks. Keep a three-feet safe zone around equipment to keep children and pets safe.
Check for gas leaks.
Before the first use each year, inspect gas grills for leaks by applying a light soap and water solution to the tank hoses, connections, and values. A propane leak will release soap bubbles. If a leak is found, get the grill serviced by a professional before using it again.
Open the lid before lighting a gas grill.
Lighting your grill with a closed lid can cause a dangerous buildup of gas, creating a fireball.
Never leave a grill unattended while in use.
If you need to walk away, ask another adult to take over.
Clean up after every use.
Built-up grease can act as fuel for fire. Use a grill brush after each use and empty the grease tray. When using a charcoal grill, wait for coals to cool and dispose of them in a metal garbage can with a lid. Wet down ashes with water to ensure they are distinguished.
Keep a spray bottle and fire extinguisher handy.
Use a spray bottle of water to extinguish small flare-ups. In the event of a fire, prevent the spread quickly by keeping a fire extinguisher or water source close by. If the fire gets out of hand, call 911 immediately.
OTHER RESOURCES
FEMA
https://www.usfa.fema.gov/downloads/pdf/publications/grilling_fire_safety_flyer.pdf
NFPA
https://www.nfpa.org/Public-Education/Firecauses-and-risks/Seasonal-fire-causes/Grilling
NHSA
https://staysafe.org/safety/outdoor/grilling/
Disclaimer: The GUARD Wire is designed to provide general information about various topics of interest and should NOT replace the guidance, advice, or recommendations from licensed insurance or legal professionals, other industry experts, or state and federal authorities.