Swimming Pools: Liability Exposure
Published on July 9, 2020
Last modified on April 18, 2022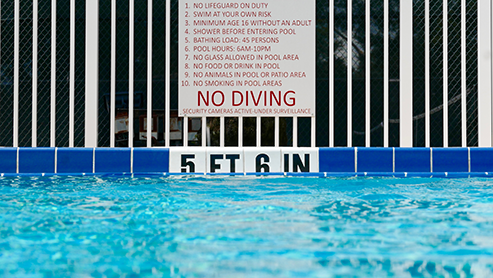 Swimming pools can be great fun during the hot days of summer and a perfect venue for outdoor entertaining, BUT they can also be dangerous when certain safety measures are not taken. Broken bones, cuts and bruises, water illness, or worse . . . electrocution and drowning can all occur.
Q. Who is typically held responsible? A. You.
Property owners tend to underestimate the liability risk associated with swimming pools. That's why having adequate insurance is important. Home, hotel, and apartment complex owners with a pool should look into obtaining higher limits of liability coverage or a separate umbrella policy for the best financial protection. (Talk with your insurance agent about options.)
But ensuring safety needs to go even further. Simply put, it is the property owner's responsibility to protect individuals in a pool environment.
While all accidents cannot be prevented, we offer some tips for containment here.
Safety Measures
Limit access.
Install a fence around the perimeter of the pool (at least 4 feet high for in-ground pools); add self-closing and self-latching gates for entryways.
Ground electricity.
Be sure all electrical devices used to operate the pool are connected to a ground fault interrupter or circuit breaker. Know how to shut off filters and other devices. Be sure that staff is trained to deal with commercial pools.
Adhere to drain cover standards.
Refer to the Virginia Graeme Baker Pool and Spa Safety Act (visit poolsafely.gov).
Know local pool laws.
Contact your municipality for local standards and relevant safety and building codes to follow.
Invest in safety equipment.
Consider an automatic or lockable cover, pool alarm, rescue gear (safety ring, shepherd hook, etc.), and slip-proof rubber mats.
Have a life guard present.
A life guard on duty is highly recommended for commercial pools; staff trained in first aid and CPR is critical as well.
Create/enforce safety rules.
Prominently post rules in the pool area. No running, alcohol prohibited, no swimming alone, attend to children, and NO DIVING are a good start.
Check for hazards.
Make inspection of the pool area for hazards a regular routine.
Other Resources
INSURANCE INFORMATION INSTITUTE
https://www.iii.org/article/pool-safety-and-insurance
POOL SAFELY
poolsafely.gov
Disclaimer: The GUARD Wire is designed to provide general information about various topics of interest and should NOT replace the guidance, advice, or recommendations from licensed insurance or legal professionals, other industry experts, or state and federal authorities.