Wildfire Safety
October 2, 2019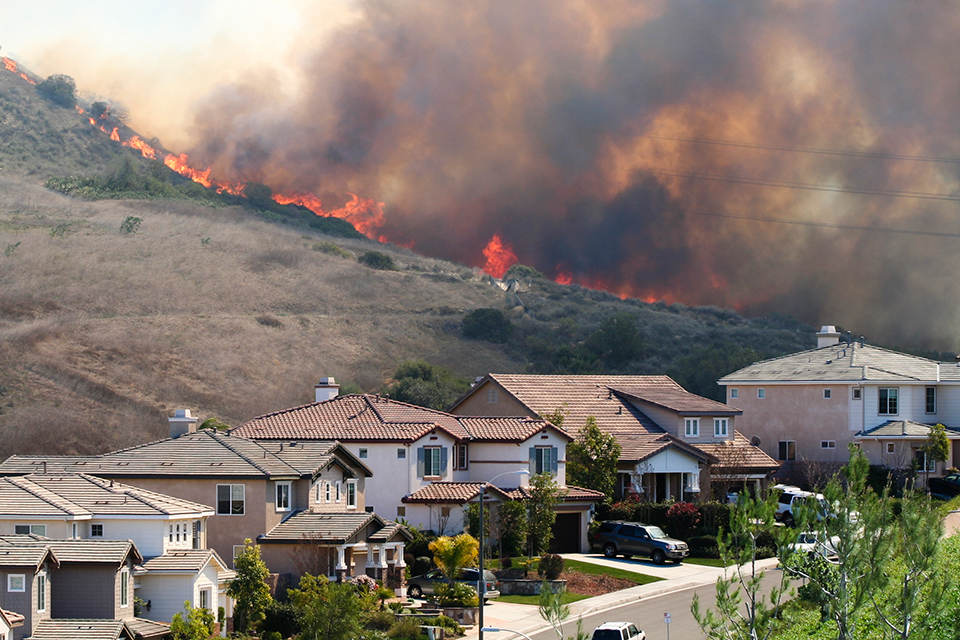 Like other natural disasters, wildfires can pop up unexpectedly and leave those in their path with little time to prepare. Unlike other natural disasters, most wildfires – approximately 90% – are caused by people. While that is an unfortunate statistic, it also means we have the ability to take steps to reduce the number of deadly wildfire outbreaks.
Below are tips from the National Fire Protection Association on how to prevent wildfires, how to safeguard your home should one break out, and what to do if a wildfire is in your area.
Wildfire Prevention
Many wildfire prevention methods are common sense but that doesn't mean we can take them for granted:
Never leave a fire unattended. If you should notice an unattended or out-of-control fire, contact the proper authorities.
Completely extinguish any fire – by dousing it with water and stirring the ashes – before leaving the area.
Store fuel in appropriate containers away from appliances or any heat sources.
Never discard cigarettes, matches, or other lit or smoking materials without first ensuring they are extinguished . . . and then only in appropriate receptacles.
Always follow local ordinances when burning waste materials. Avoid doing so during windy conditions or near other flammable materials and always keep a shovel, water, and fire retardants nearby to keep fires in check.
Safeguarding Tips Prior to a Wildfire Outbreak
The most important step in safeguarding you, your family, and your home from the potential devastation caused by wildfires is to create and maintain an emergency plan. Simple steps like assembling an emergency supply kit, developing an evacuation plan, and designating a safe meeting place for loved ones are all important aspects of any good emergency plan.
Once you've developed your emergency plan, consider printing a copy of it and storing it in a secure place. Wildfires often result in power outages and, if that occurs, the information may be trapped on your computer. In addition, be sure to review your plan annually and make necessary updates. After all, things change!
Now that you've got your emergency plan in place, there are a number of steps you can take in and around your home to decrease the likelihood of the worst happening:
Clear leaves and other debris from your home and property to prevent embers from igniting your home.
Try to keep at least a 30 foot radius around your home's foundation and outbuilding clear of flammable materials (e.g., firewood stacks or propane tanks).
Keep your lawn hydrated and maintained.
Screen in exposed areas below your home and/ or deck with wire mesh to prevent debris and other combustible materials from accumulating.
Prune trees so that the lowest branches are a minimum of 6 feet from the ground.
To learn more about protecting your home and property, visit www.firewise.org.
What to Do During the Time a Wildfire Is in your Area
This is where good disaster preparedness and an effective emergency plan pays dividends. You've prepared and practiced for the worst, and that tragic day has unfortunately arrived. Now is the time to put the following steps into action:
Pay attention to local news and updates from local media for the latest information so you know when it is time to get your family, home, and pets prepared to evacuate.
Gather essential items and your emergency kit and place them in your vehicle.
Move any furniture or other flammable items either indoors or far away from the home.
Be sure to close all external openings in your home to prevent embers from entering your house.
Leave as early as possible, BEFORE you're told to evacuate. Once the evacuation order has been given, egress routes will be more congested and hinder your ability to meet your loved ones at your designated meeting space.
While the prospect of a wildfire can be a scary one, many agencies work together to combat these disasters and build public knowledge to create more resilient communities such as National Geographic and the National Fire Protection Association.
In addition, you can review our Weathering the Storm "DO's and DON'Ts" flyer for more information about handling severe or dangerous weather.
Disclaimer: The GUARD Wire is designed to provide general information about various topics of interest and should NOT replace the guidance, advice, or recommendations from licensed insurance or legal professionals, other industry experts, or state and federal authorities.