Blizzard & Snowstorm Safety
Published on October 10, 2019
Last modified on September 14, 2020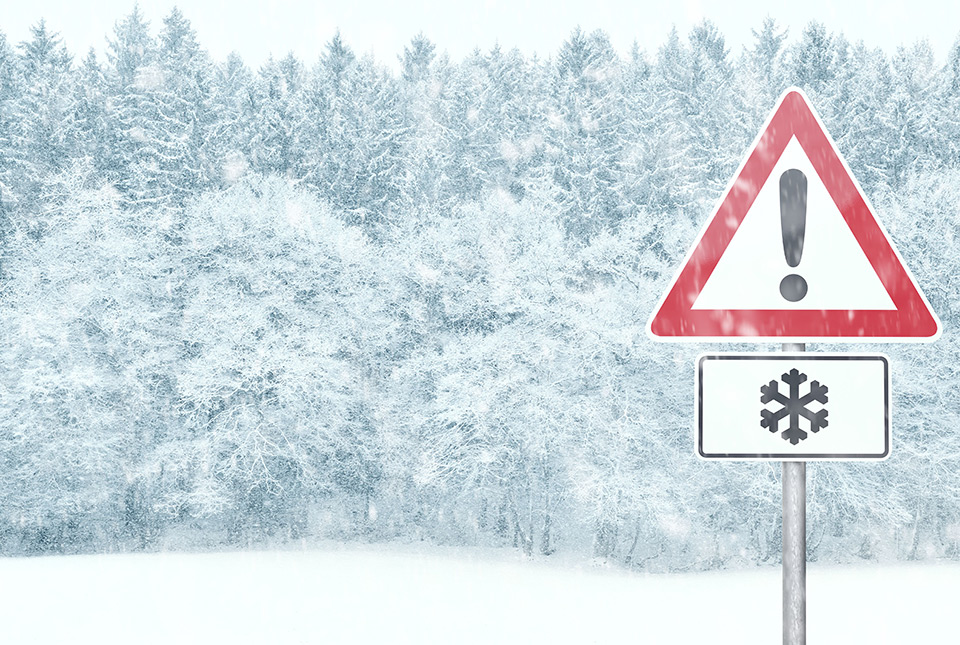 The leaves have just begun to turn, but now is actually the best time to begin preparing for winter storm safety. While the weather can be unpredictable at any time of year, winter can present special challenges. Here are a few steps you can take to make certain that you and your loved ones weather each storm safely.
Ensuring safe travel
Winterize your vehicle now to ensure you won't become stranded when temperatures dip. Have a mechanic check your:
battery
antifreeze
wipers
windshield washer fluid
ignition system
thermostat
lights
heater
brakes
defroster
tires
oil
Don't forget to stock your vehicle with a windshield scraper, a small broom, a set of tire chains or traction mats, matches in a waterproof container, and an emergency supply kit (excluding flares, which can be a hazard if not stored and used properly). Include warm clothing and a blanket, too. And keep your gas tank full to prevent fuel from freezing. This will also ensure you can leave right away in an emergency.1
Preparing your home
Make sure your home is properly insulated and your heating sources are clean and in working order. Consider buying emergency heating equipment, such as a wood- or coal-burning stove or an electric or kerosene heater. Be sure to follow all laws and regulations regarding supplemental heat sources, and check with your local fire department for any restrictions in your area.
Install snow fences where appropriate to keep snow from drifting and blocking roadways and paths, and keep a supply of non-clumping kitty litter to make walkways and steps less slippery. Be sure your roof is structurally sound. If you have exposed pipes, have a professional install heat tape to protect against freezing. You can also open cabinet doors to allow warmer air to circulate around plumbing, or in extreme cases, allow cold water to drip at a trickle from the faucet.2
If a storm is in the forecast:
Listen to local area radio, National Oceanic and Atmospheric Administration (NOAA) radio, or tune into to local television stations for the latest information and updates. Be prepared to evacuate if you lose power or heat. Check medications and medical supplies and keep them handy. Bring your companion animals inside and ensure that your horses and livestock have blankets if appropriate and unimpeded access to shelter, food, and non-frozen water.
Terminology3
Listening to the forecast can be confusing if you don't know what the various warnings mean. Here's a guide:
WINTER WEATHER ADVISORY: An advisory is issued when there is a high probability for less serious conditions that can cause significant inconvenience and could lead to life-threatening conditions if you aren't cautious.
WINTER STORM OUTLOOK: This is winter weather that may have a significant impact within the next 3 to 7 days and could lead to a storm watch or warning.
WINTER STORM WATCH: A watch is issued 24 to 72 hours prior to a weather event where there's a 50 to 80% certainty that warning thresholds will be met.
WINTER STORM WARNING: Warnings alert the public that a hazardous weather event is occurring or is likely to occur (with an 80% or greater probability) and that conditions could pose a threat to life or property.
BLIZZARD WARNING: This warns that a blizzard is expected within 12 to 36 hours and could produce wind or frequent gusts of 35 mph or more with falling or blowing snow that may reduce visibility to less than a quarter mile and could last three or more hours.
Disclaimer: The GUARD Wire is designed to provide general information about various topics of interest and should NOT replace the guidance, advice, or recommendations from licensed insurance or legal professionals, other industry experts, or state and federal authorities.
1https://www.redcross.org/get-help/how-to-prepare-for-emergencies/types-of-emergencies/winter-storm.html
2https://www.redcross.org/get-help/how-to-prepare-for-emergencies/types-of-emergencies/winter-storm/frozen-pipes.html
3https://www.weather.gov/bgm/WinterTerms