Tornadoes: Bracing for Impact
Published on September 8, 2020
Last modified on October 4, 2022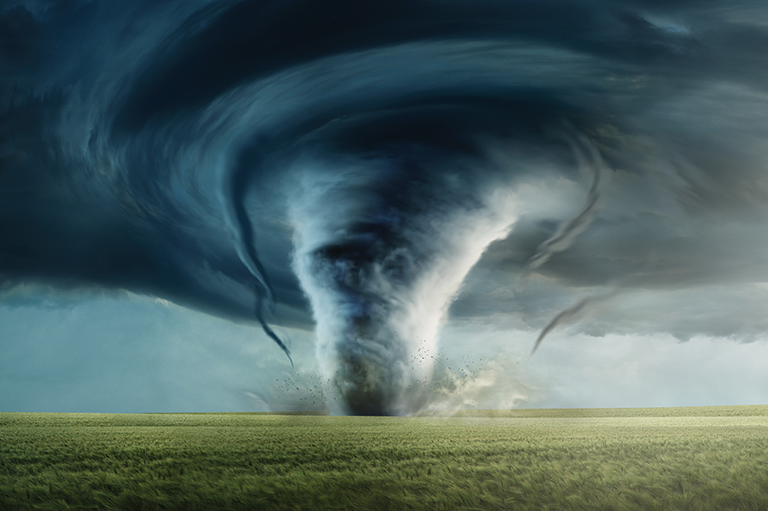 Tornadoes represent one of the world's most common and dangerous natural disasters due to their relatively-high occurrence rates, significant material damages, and fatalities. While studies suggest that certain areas of the U.S. are more prone to tornadoes than others (think "Tornado Alley" which represents the Great Plains in the central region), these tropical cyclones can actually occur anywhere and with little warning.
Although there is no way to eliminate all of the damage from a direct hit, home and business owners can implement measures to minimize some of the impact of a severe tornado.
PROTECTING INDIVIDUALS
Business owners should prepare an emergency plan for supervisors and managers to follow during the threat of a tornado. Be sure to include provisions for employees typically working outdoors.
Home owners should also prepare a plan for family members/friends staying in your home.
Practice emergency procedures periodically or when tornado drills occur in your area.
Monitor local radar and weather information and download smartphone apps for tornado alerts.
Keep exterior doors and windows closed to minimize rain and flying debris. Keep interior doors closed to compartmentalize buildings.
Seek shelter in a "Safe Room," a basement, corridor, or small interior room on the first floor. (Refer to "Creating a Safe Room" in the Tornado section of www.DisasterSafety.org.)
Avoid sheltering in areas with an outside wall or with glass windows.
Maintain an electronic record (inventory records, photos and/or video) of your property and contents and store this remotely.
PROTECTING PROPERTY
Build/Retrofit for Wind Resistance
New Buildings: Work with a contractor to incorporate wind-mitigation techniques and high wind-rated products.
Existing Buildings: Retrofit your home or business by bracing and strapping the roof, adding reinforcements, and making entry and overhead doors more wind resistant.
Replace garage doors with a high wind-rated ones.
Minimize Flying Debris
Remove or trim trees and branches that could fall on buildings or power lines.
Replace gravel and rock surrounding the property with dirt.
For commercial buildings, avoid using built-up roofs with aggregate or pavers on the surface.
Prior to an impending tornado threat, bring outdoor items (garbage cans, dog houses, patio furniture, equipment) inside or put under cover. Put vehicles in a garage.
Perform Routine Maintenance
Inspect your property regularly for potential high-wind hazards.
Secure fences, decks, and any loose pavers.
Repair loose or damaged siding, soffits, fascia, gutters, shingles, brickwork, etc.
AFTER A HIT
If a tornado has damaged your property, contact your insurance carrier or agent to begin the claims process and review what's covered on your policy. Take photos and videos and keep a record of expenses incurred for consideration in your claim.
If possible, prevent the property from further damage by laying out a tarp over the roof and tidying up the inside of the building. Be careful, though. Do not enter a structure that may have taken on serious damage and is at risk of collapsing. Watch out for debris or downed power lines around the perimeter.
Tips shared have been extracted from the Insurance Institute for Business & Home Safety's, "Steps to Reduce the Risk of Tornado Damage in Commercial Structures." Visit http://ibhs.org for more information.
HELPFUL RESOURCES
AMERICAN RED CROSS
https://www.redcross.org/get-help/how-to-prepare-for-emergencies/types-of-emergencies/tornado.html
DISASTERSAFETY.ORG
http://disastersafety.org/tornado/
FEMA.GOV
https://www.fema.gov/sites/default/files/2020-11/fema_protect-your-property_severe-wind.pdf
Disclaimer: The GUARD Wire is designed to provide general information about various topics of interest and should NOT replace the guidance, advice, or recommendations from licensed insurance or legal professionals, other industry experts, or state and federal authorities.